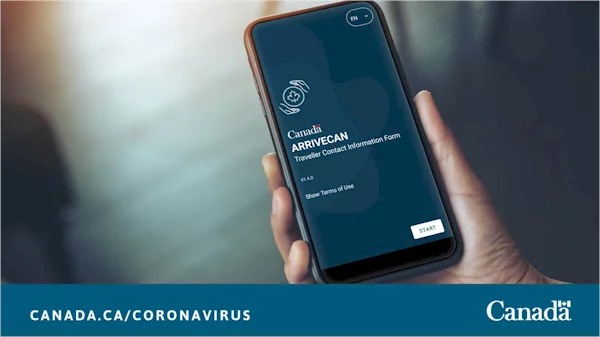 You must use ArriveCAN to provide mandatory travel information before and after your entry into Canada. It only takes minutes to help keep each other safe.
Available for iOS, Android and web.
The mobile app is free and is available in English, French and Spanish (displayed in the language of your device). Download the latest version of ArriveCAN or click 'update' in your app store.
ArriveCAN is mandatory and free!
Be cautious of third party, fraudulent webpages and apps that may be posing as ArriveCAN and asking you for payment. If you encounter a suspicious webpage or app that appears to be posing as ArriveCAN, please file a report with the Canadian Anti-Fraud Centre immediately. ArriveCAN is free and secure and is the official Government of Canada platform to provide your information when entering Canada.
All travellers require a pre-entry COVID-19 molecular test
Effective December 21, 2021 at 12:01 a.m. EST, the exemption from the pre-entry molecular test for Canadians taking short trips of less than 72 hours was suspended. All incoming travellers to Canada are required to present:
a negative COVID-19 molecular test, to be performed in a country other than Canada, within 72 hours of their scheduled flight or arrival at the land border, or proof of a positive test result received in the previous 14 to 180 days.
For further any queries or assistance how to fill-up the ArriveCAN, please feel free to contact with us without any hesitation. We hope your smooth landing in Canada. Call us : 01750037772 ( Mr. Parvez ).